To all of those currently in crush mode, we've got some great news for you!
Kendall Schmidt
,
Logan Henderson
,
Carlos Pena
, and
James Maslow
just so happen to be experts when it comes to catching the love bug (did you really expect anything less?). So if you're feeling in need of some superb advice on the big L-O-V-E, we suggest you keep reading...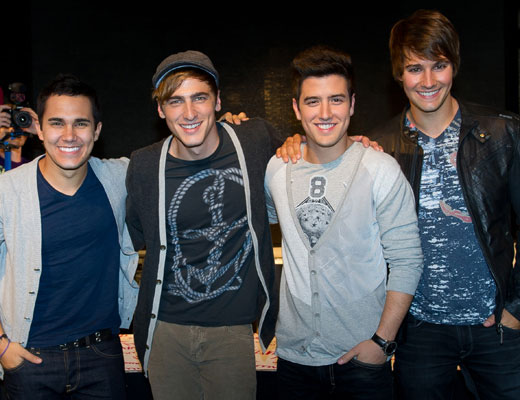 In an interview with Popstar!, the boys dished tons of dating advice, from how to catch your crushes eye, to dealing with a bad break-up.
James started off by explaining the best way to catch a guy's attention. He said, "Just be normal! Here's a good example: we were playing the fair in Ohio and there was this little helicopter that you could pay $35 to take a ride in. Kendall and I decided to go and we had room for one more person. There were a bunch of fans coming over so we figured we'd take a fan. When we were looking back at everyone screaming and holding up signs we saw this one calm girl and both of us just looked at each other and were like, 'Yeah, let's bring her on.' So I really think that means something in relationships and life, too. When you're comfortable with yourself and if you're confident that's a huge thing; if you have confidence versus being so eager and overzealous, I think that stands out."
Then Carlos dished on being friends with your crush, first. He said, "I love a girl who can just hang out and watch movies with me and not have to be so awkward, so being friends first is really important to me. If I can vibe with someone then yeah, it's great. Be friends and take it from there."
But what about staying friends with an ex? Kendall explained, "I will say it's difficult to be friends after you date somebody. They're like, 'I want to be your best friend', and it's like, 'I can't. I can't look at you like that anymore. You're like my girlfriend. How am I supposed to just be friends?' That's when it gets complicated for sure. It's hard because usually you want to see the person, too, but just not in that way. Trying to be friends after a breakup is tricky."
So, then what's the best way to get over a bad breakup? Logan said, "Oh, man, breakups are really hard and no one's really immune to going through that pain. For me it's always important to focus on things that you like doing, things that make you happy. Find your alone time and learn to be at peace and have a good time with just yourself for a little while. It's hard, but I always write music or -- it's weird, but [I go] driving. Being able to just drive and have my alone time is always good."
So, what do you think, guys? Do you think there's some Elevate tracks that may have been inspired by a Big Time love story or two? We just might have to give the album another listen to find out!

source: nick.com