Whether you're feeling happy or sad, stressed or care-free, sometimes it feels better having a soundtrack to go along with your current 'tude. And thanks to
Kendall Schmidt
,
Logan Henderson
,
Carlos Pena
and
James Maslow
, you can find all the mood-fitting jams you need all in one album! The boys dished to
BOP
magazine about the songs on their new record, 'Elevate'. And it turns out, they've got a song for just about everything! Peep the list below, and find out which track is
on
track with your state of mind.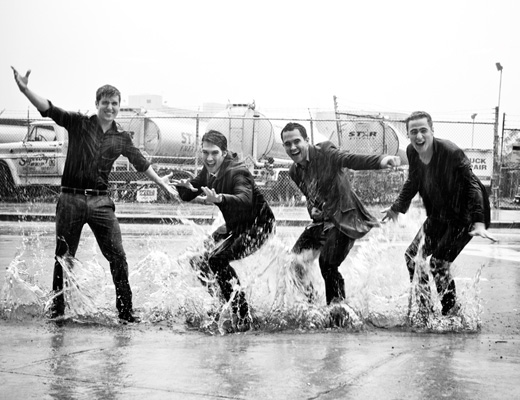 Mood: Crushing = Song: "No Idea"
If you're feeling romantical, this song is right up your alley. James explained, "I would serenade this to a girl. It is one of the most beautiful songs I've ever heard. It's about liking a girl who has no idea that you're there. I've had crushes on girls and they didn't know I existed!"
Mood: Star-Struck = Song: "Music Sounds Better With U"
If you're the ultimate BTR fan, this is the song for you! Kendall dished, "This is our first single off the album." Carlos continued, "We are stoked about it! We put our heart and soul into it. We wrote and co-wrote eight out of the 12 tracks on Elevate." And Logan added, "Everyone's going to see a side of BTR that's more mature and different."
Mood: Insecure = Song: "Cover Girl"
If you're feeling a little self-conscious, leave it to Kendall to put your mind at ease. He explained, "There are a couple of people I had in mind when I wrote 'Cover Girl'. It's about a girl who doesn't think highly of herself. I'm looking at her and going, 'You're out of your mind!' It means a lot to me. It's how I feel about a lot of people in my life."
Mood: Party Time = Song: "Elevate"
And if you're ready to get the party started, this song is guaranteed to put some feet on the dance floor. James said, "'Elevate' is a party song. It's not as deep as some of our others, but I had so much fun writing it. Every time I sing it, I have memories of a good time. When fans listen to it, I think they'll have the same reaction. It's fun and upbeat!"
So no matter what you're feeling, we suggest you throw on the new BTR album. 'Cause you're sure to feel the Rush!