Season 3 Overview:
The boys are going back for a third season after their world tour and their second album out. They will start production on 20 episodes. In one of the episodes, it is rumored that Jo may be coming back from New Zealand. The new movie,
Big Time Movie
, is supposed to be the first episode of the season, but it is unconfirmed. They will again start filming after the "Better with U" tour starting February 17, 2012 in Las Vegas.
For Season 3, Kendall Schimdt said I would like for Jo to return,let just hope that my Character (Kendall Knight) doesn't have a girlfriend by then. In Big Time Move, Lucy Stone may have developed a crush on Kendall as she wink at him, when BTR was performing All Over Again.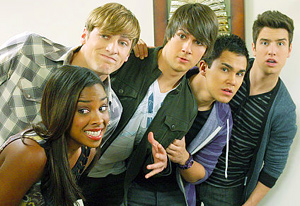 BTR have mention that they would love to record a song with the Scyscraper singer Demi Lovato and also to have her on the show.Is unknown if she will appear in an episode,but seeing the relationship between her and her friend Logan Henderson there's a possibility that she may appear in a future episode or song.

Once the tour ends, the boys will return to L.A. for production on the third season of "Big Time Rush.""We start shooting in April and it's going to be awesome. I know a lot of the new songs are being worked in and we are getting a lot of big guest stars," Pena said. "They all have kids and want to be on the show and it's awesome.Erik Estrada plays my dad. Fabio, Miranda Cosgrove…a lot of fun people are coming by. It's going to be a great season."
By what Carlos said, it seeing that Miranda Cosgrove is returning as special guest star or their may be a cross over episode with
iCarly
.
source: bigtimerush.wikia.com